What goes on behind the scenes at Charger Enterprises enables its crews to maintain their reputation for excellence. Over 30 years of experience is enhanced by continuing education, employee training, safety meetings, financial stability and a continued dedication to excellence on the part of management and employees.
Support begins as a quote is being prepared. In addition to crunching numbers, the job is visualized from start to finish. Things such as access to the work area, integrating with other trades, the work flow schedule, soil conditions and equipment are considered. The impact of specifications and scheduling may raise questions that may need to be addressed. These are some of the things being noted as plans and specifications are being reviewed below: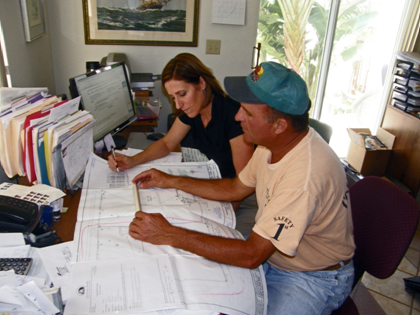 Charger's numerous projects have included site work and concrete paving, sidewalks, school walkways and driveways, secondary structural concrete for commercial buildings, and decorative concrete. Charger Enterprises, Inc. has gained recognition for its work on schools, commercial centers and specialized paving. The latter includes concrete parking lots, highway access ramps and airfield paving. The company is a pioneer and certified specialist in Pervious Concrete and led the way in the use of fiber reinforcement of concrete. We have long ago learned that wire mesh does little to strengthen the concrete. It often sinks to the bottom of the slab or rises too close to the top of the slab and does little to strengthen the slab. In practice, its main purpose has been to hold cracked concrete together until it is replaced.
In addition to experience, support means having the right equipment available. In addition to tools and trucks, it includes forms, a roller screed, trowelling machines, a tractor and trailers to bring them to the job.