For starters we're ethical, broadly experienced, thoroughly organized and dedicated to our clients. We are a family owned and run company which is majority owned by the women of the family, so we qualify as a minority owned business. We are well respected by many General Contractors and suppliers because we have stood behind our work for over 30 years and are financially sound.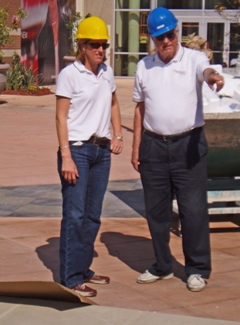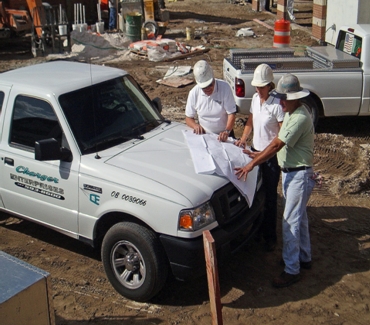 Another reason is our expertise and knowledge about concrete. The industry has made major advances over the years with new mix designs, new additives and new techniques. We have thoroughly investigated these advances and are qualified to explain them to our customers. We can provide you with insight as to how the right concrete mix can fill your needs the best, and how that mix can best be installed.
As an example of our background knowledge, please review this brief history of concrete complied by the Charger Team.
History of Concrete
The first recorded use of concrete was in ancient Rome. The Romans discovered that by mixing volcanic ash (Possolan) with limestone, pumice and water they could make a substance that would cure and become very hard. It could be used for arches and other shapes. It greatly expanded Roman construction ability. The best surviving example is the coliseum in Rome.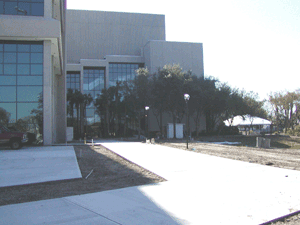 Concrete in modern times was created in 1824 by a British stone mason, Joseph Aspdin. He first created and patented it as hydraulic cement. By adding water and mixing, this cement first turns into a workable paste then hardens when water is mixed with it. It was named Portland Cement, after a quarry on the isle of Portland, off the English Coast. This is a strong binding ingredient in concrete.
Structural concrete is a mixture of Portland Cement, often fly ash or blast furnace slag, with aggregates (crushed stone), sand, water and perhaps, a variety of admixtures. For additional information please review the links below and throughout this web site:
MAST – Scientific Principles
PCA – History & Manufacture of Portland Cement
FHWA – Portland Cement
Installing Concrete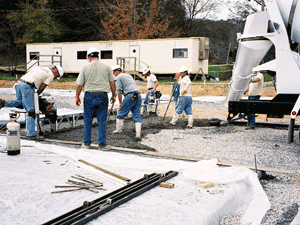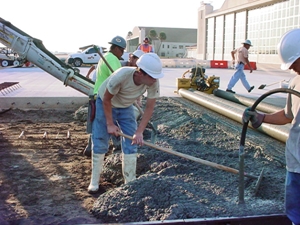 When the concrete mixture is blended in a mixing device it becomes what could be likened to a workable thermoset plastic mixture. (It is a relative to Silicone plastic) The initial curing process takes about 28 days during which the chemical process known as hydration takes place. This is a process during which atoms from the silicates in the cement react with the atoms in water to form calcium silicate+calcium silicate, hydrate+calcium hydroxide and additional compounds while releasing heat.
Most of the heat will be released within the first 36 hours after placement. If the concrete is kept moist it will reach its designed strength at 28 days. (Without sufficient moisture the concrete will not reach its designed strength.) However, it will continue to strengthen slightly indefinitely, especially if it contains fly ash. By then the conversion of water and cement to hydrated silicates will have been virtually completed. If the water is allowed to evaporate during hydration (curing), strength will be lost.
Knowing how to work correctly with concrete is only part of the success formula. Having the right tools, including steel forms, power trowels, power screed machines, a laser level and a host of additional equipment is what enables us to place it right the first time.