Though we are probably best known for our work with pervious concrete, but we have also been praised for our work with architecturally designed concrete, airfield paving, bollard installations and for our pioneering work with fiber reinforcement.
Concrete material selection is something taken for granted by many customers. We start by reviewing any material specifications created by architects or engineers. If there is a need due to site conditions or the potential to improve mix designs with new technology we will discuss this with the specifier involved before providing a proposal.
If the customer does not specify the concrete mix, we will discuss options and make recommendations, getting customer's approval before work begins.
We also discuss the project with potential material suppliers to discuss mix and schedule requirements, as well as price guarantees for the time of installation. For larger projects quality control is required both in the form of mix certification and jobsite support from supplier personnel.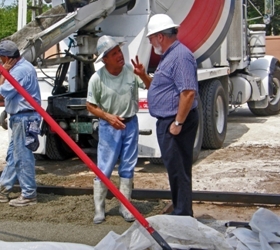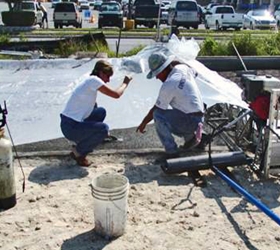 Mix ingredients are always a concern. For example: a change in aggregate source could change the functionability of pervious and other concrete. The inclusion of about 20% fly ash with 80% of the cement component can add strength to the mix as well adding workability.
Fly ash is a byproduct of the production of electricity. It is the non-combustible remnant when coal oil or gas is burned to generate electricity. These particles are rich in silica, alumina and calcium and by mixing them with limestone a chemical reaction can occur that produces possolans, the type of cement used in Rome's Coliseum.
Because the resulting fly ash particles are spherical, while they are replacing a portion of Portland cement whose particles are ragged, they make the concrete more workable. It flows more easily around reinforcement steel and reduces voids. And because it is it reduces the amount of water required in each batch, it makes the concrete stronger.
The use of fly ash also reduces the carbon footprint of the concrete by around 20%.
Please visit Oikos and Flyask for Concrete for additional information.
Originally, one strong motive for using fly ash in concrete was to act as a filler that would react favorably as a filler and cement partial replacement. It was first used in a large project the Hoover Dam in 1929. But since it has been recognized as a concrete enhancement that converts what had once just been a waste product filling up landfills, to the valuable concrete componant that it is today.
Admixtures: Concrete is made from the primary ingredients of cement, aggregate (usually stone and sand) and water. Admixtures are additional materials added either at the batch plant or in the field to alter the properties of the mixture to improve it. They can be added to accommodate temperature problems, workability, curing or final properties.
All admixtures must be evaluated as to their suitability and effect on the finished, cured concrete. One group of admixtures widely used is called super plasticizers, which are primarily used to reduce water content, increase workability and increase strength. Whatever form the mix may take we require ready-mix suppliers to certify the specification compliance of the concrete mix or mixes supplied on each job.
When concrete arrives on the job an experienced craftsman like Gerald Mims can use his senses to evaluate the quality of the mix. This includes hearing the sound of the concrete rotating in the drum, feeling and seeing the consistency of the mix coming down the chute and feeling the mix for temperature and quality.
For additional information please visit: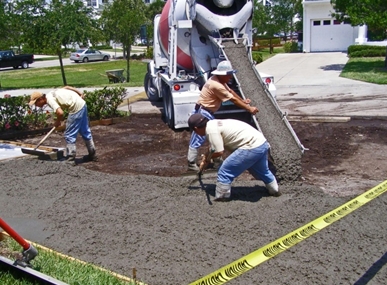 One factor that can affect mix design is the need to pump concrete to the slab location. When using a boom pump as below, changes are probably not necessary. But if a small trailer pump is used, the mix would be designed around smaller aggregate to make use of the small pump practical. The cured concrete will still have the necessary properties to comply with performance specifications.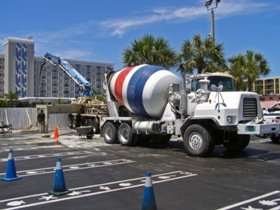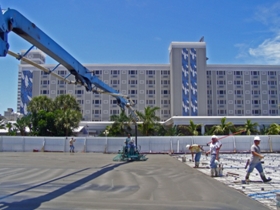 When concrete hardens and becomes lighter or white it is going through a curing process called hydration. In this chemical process shrinking occurs which causes cracks. To reduce cracking, in addition to control joints which allow for shrinkage, wire mesh was usually used for reinforcement, but because doesn't prevent cracking, plastic fibers were added to the mix in the ready-mix trucks. We were pioneers in the use of fiber reinforcement. Plastic fibers hold concrete together while it is curing. By contrast wire mesh holds cracked concrete together.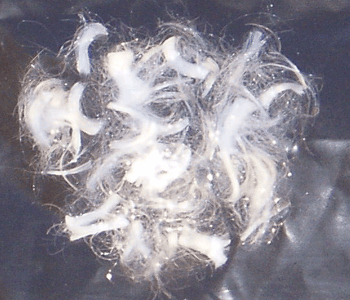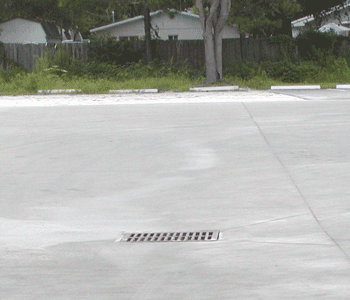 Special mixes and techniques are employed to create exposed aggregate surfaces.