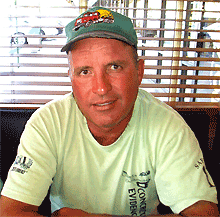 You are probably here because you want to know more about Pervious Concrete. Welcome! Some know very little about it, while others may have heard or read a lot about it. It can be a wonderful, sustainable Green Product that will help heal the environment, or it may become a snake that can hurt you. The snake is incompetent installation or poor mix design.
We know Pervious Concrete can help develop land for the best intended use, feed the aquifer and can reduce cost when designed and installed right. We want you to know the difference between fiction and fact. For starters, don't believe everything you read or hear about it.
We are different. Gerald Mims pictured here, who heads our Concrete Division is a specialist with more than three decades of experience installing pervious concrete. Gerald says: "We don't just sell, write or talk about it, we have the more than 35 years of proven track-record working with pervious concrete!" Gerald is a hands-on leader with the integrity and wisdom to do it right the first time.
We were the first to put our widely accepted pervious concrete specification on the internet. We have updated and expanded it to prevent some serious problems we have observed because of developers and installers who do not understand what they are working with or how they are doing it! To some degree, methods, materials and responsibilities have changed so we continue to update our specification. The latest up date is posted on this site. We are not just builders who occasionally work with concrete. We are not concrete contractors who sub contract it. We clearly focus on pervious concrete and with our growing experience, we can still offer a 10-year warranty on it.
Reading other pages of our web site will help you understand how Pervious Concrete works to protect the environment while channeling rain water to the aquifer. You will learn what minimal maintenance is needed and why it continues to work well for decades.
We will also acquaint you with our other skills in working with concrete, creating functional and esthetically pleasing installations. If you look through our site you will learn more about the history and chemistry of concrete, its environmental considerations, and the many other skills that we have acquired while working with it for more than three decades. You will also learn the economics of using concrete vs. competing products. Read as much as you wish, and give us any feedback to help with future updates. We invite you to browse our site and educate yourself about all that we can offer you.