We approach each job with the goal to create a showcase of excellence in concrete! It gives us a reason for pride when customers complement us on our holistic approach to quality and expediency.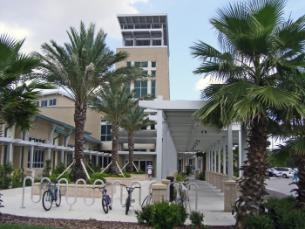 Each job completed represents a study in organization, skill and efficiency. At the start elevations and measurements are confirmed with drawings and all involved, before forms are installed. On the days we pour, everything is double checked an hour before the ready mix trucks arrive. If rain or anything else has moved our forms, we are on site early enough to make corrections. Each task is planned in correct sequence. After the concrete is placed and finished, all tools are thoroughly cleaned and returned to their place on our trucks or equipment trailers. At the end of the day we take all unused forms and equipment back to our warehouse for storage. Then our trucks are cleaned and loaded for the next day's work. This planning and organizing makes our jobs get done right and on time.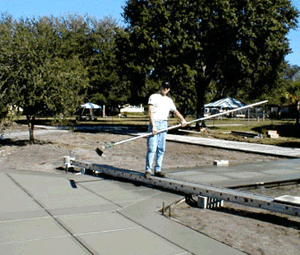 Charger continues to add new equipment to improve quality and capability. Workers are being constantly trained in new skills and the use of new equipment for high quality workmanship. It takes a wide variety of tools used by the artisans they become to attain excellence in every job.
It is our constant goal to guarantee customer satisfaction. This means we provide excellence in workmanship, attention to detail and flexibility in meeting customer needs. And we give you more than you pay for through competitive pricing. We get jobs done right, on time and within budget.
We are here to help you. We work with a wide variety of products, services and subcontractors. Whatever project or problem you have we can probably assist you.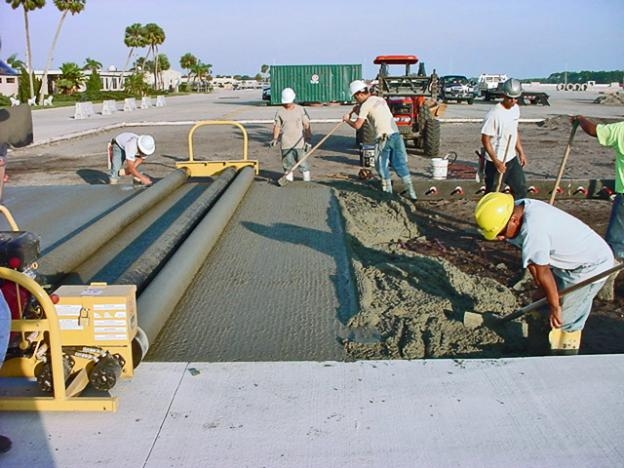 Charger employees were trained to use a new roller screed over the last 6 months. This enables us to properly place thick pavements, using low slump concrete. The slump is reduced by using less water in the mix. This results in stronger pavements.