Charger Enterprises, Inc., a family owned and run company, was formed in Largo, Florida in 1978 by Charlie and his wife Geraldine Wolfersberger. Early experience included commercial and residential building projects. Charlie Wolfersberger has been involved in construction since 1949. After formal education and building experience he served for 12 years as a plastic engineer with much emphasis on designing and marketing plastic building products. He now serves as Executive Vice President.
In 1988 Carolyn Wolfersberger-Sutton joined the company as office manager and Secretary. She was formerly the Administrative Assistant to an Executive Vice President at First Federal of Largo and produced its weekly T.V. show. Having grown up in a construction family, she has become quite knowledgeable with most aspects of construction projects as well as business management. Carolyn, through years of experience and study, qualified to become the firm's second licensed Building Contractor #CBC1253474. She now serves as President of Charger Enterprises, Inc.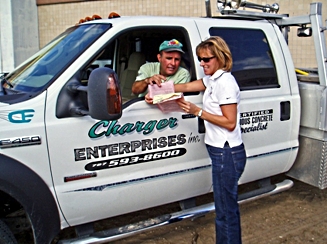 In 1995, Wolfersberger's Son-in-law, Gerald Mims, with more than 30 years of experience in the field of concrete joined the firm and heads its Concrete Division. Under his direction the company acquired all new, state-of-the-art equipment to maintain leadership in the field and to meet the unique needs of each job. His intimate knowledge of the unique properties of concrete, grading and site work expedites projects and avoids problems up front.
Gerald's experience with concrete includes more than 30 years of working with Pervious Concrete. He has worked with Ready-Mix Concrete Suppliers to improve their mix formulas for better strength, consistency and placement qualities.
Charger's numerous projects have included site work and concrete paving, sidewalks, courtyards, walkways, driveways, auxiliary structural concrete for commercial buildings, and decorative hardscape concrete such as the courtyard for Westfield Brandon Mall and the exposed shell sidewalks on Clearwater Beach.
Charger pioneered the use of fiber reinforced pavements and Pervious Concrete. Their artistic concrete work includes shadow-box work, exposed aggregates including shell, granite and river gravel; die-stained concrete, and pigmented concrete. They have become the concrete contractors of choice for major General Contractors in Florida and beyond. A few examples of recent work are below.