Bollards were originally short posts that were installed on docks to anchor ships while in port. They were originally designed with an inverted taper to allow gravity to help anchor mooring lines to docks. In the second half of the 20th century they were modified and put to use to help control vehicular traffic around round-abouts or traffic circles. They have since evolved both in looks and function.
In looks they now come in a variety of designs and can be permanent, retractable and removable. They may also include lighting. Their use has evolved to provide protection from vehicles at shopping centers, airports and other public and military facilities. Usually a heavy duty (schedule 80) steel pipe is first imbedded in concrete and then a decorative sleeve is installed over them.
They are often used in front of shopping center and store entrances to prevent vehicles from crashing into them. We have been installing them for over a decade.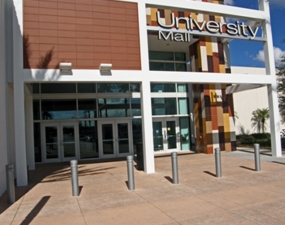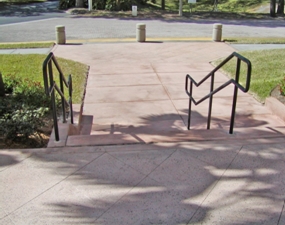 Most of the bollards we install are installed over a pipe that has been embedded in concrete. Holes are usually dug 2' x 2' or 20" or 24" diameter x 3' deep. A core pipe is centered into the hole which may be lined with a sonic tube. Concrete is then poured into the space around the pipe and allowed to cure. Then the decorative cap is then attached over the pipe. When installed for security against terrorist threats bollard cores may be up to 5' deep and may be embedded in up to 2 cubic yards of concrete. For terrorist resistance it is recommended that a professional engineer be consulted. The core pipe is usually much larger in diameter in such applications.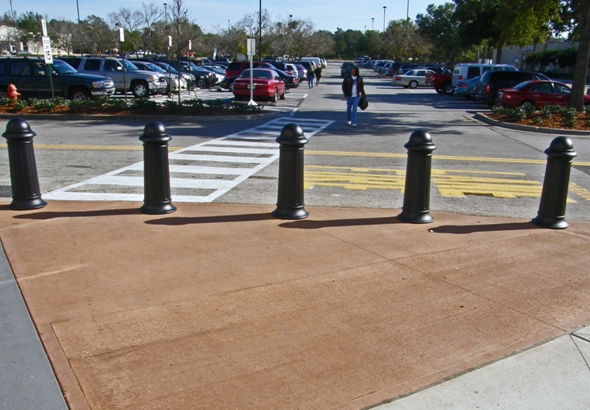 Bollards such as these may be made retractable or removable with a locking device to allow construction access to the building or shopping center.