As a project develops for a site it will usually involve visible elements such as structures, lighting, exposed utilities, means of access and egress, and landscaping.
What is hardscape? It is part of a landscape site plan. Hardscape involves integrating streets, walkways, ponds, fountains, waterfalls, planters and courtyards or malls into the site landscape plan. That includes integrating solid concrete, pervious concrete, tile, curbing, strip, pole and flood-lighting into the landscape. Charger Enterprises has excelled in interpreting designs into walkways, malls and streets. Our best demonstration of colored concrete integrated into a hardscape design was Brandon Florida's Westfield Town Center.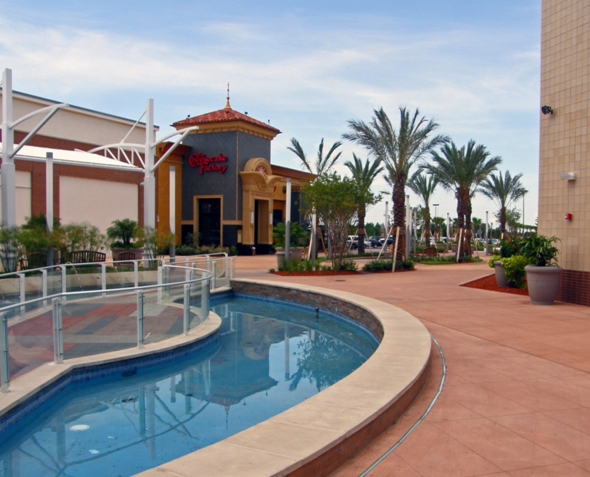 Before any work began, through good communication with all involved, we acquired a full understanding of the designer's concept for the plan. Then the mix designs were worked out for each color with the ready-mix supplier to match colors and maintain color standards throughout the project. Test samples were poured and approved before any permanent concrete was poured.
The design was achieved not only through the use of forms laid out to the designed pattern, but also by cutting additional designs into the finished slabs with a concrete saw. Though not a part of this project, exposed aggregate may also be employed as a design tool.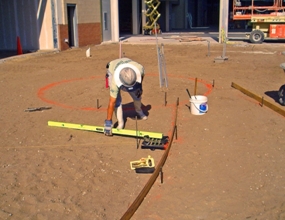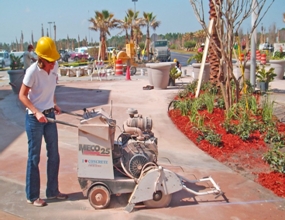 Some projects may be less involved in total concept, but the same attention to detail is necessary. Some less complicated jobs that are pictured below were at University Square Mall in Tampa and at Paddock Mall in Ocala.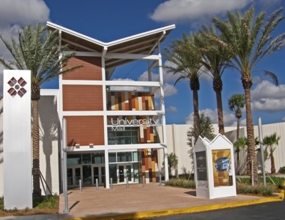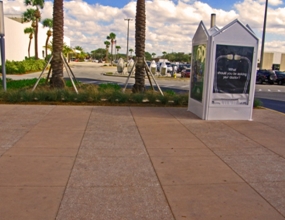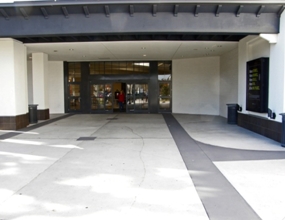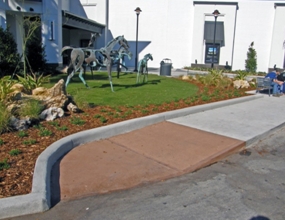 Two pictures of hardscape designs integrated into an entrance at Paddock Mall, Ocala Florida.