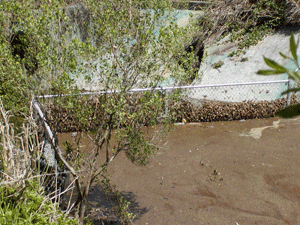 They "tore down paradise and put up a parking lot", remember the words of that song? It doesn't have to be that way! With Pervious Concrete and the right site design, a parking lot or any other construction site can be environmentally friendly. But that is seldom the case. Between roofs, driveways, streets and parking lots, 25% to 60% or more of today's building sites do not absorb rain water, but turn it into storm water run-off. Through catch basins storm water gets mixed with particulates of rubber, heavy metals, animal excrement and other junk and carried to streams, rivers, estuaries, the Intracoastal Waterway, the Gulf or the Oceans. Many scientists claim that 40% of the lakes and 30% of the streams in this country remain polluted.
Installing Pervious Concrete is a unique solution. Even though the majority of a construction site may wind up covered by roofs, walkways and some impervious paving, installing even half of the parking area with Pervious can still direct the majority of rain water into the aquifer, substituting for what was previously, a green area.
This storm water started out as relatively clean clear rain. After picking up pollution from streets and yards it is pollution soup.
Not only does this deprive the aquifer of needed recharging, but because it carries all manner of pollutants. Storm water is sometimes more toxic than sewerage water. And by picking up heat from hot pavements and roofs it raises the temperatures of the bodies of water that receive it. This kills marine life and adds to Global warming but on a very small scale. But every drop in a bucket helps fill the bucket!
It also causes erosion to stream banks as seen in the picture below, and deposits polluted sediment where it becomes a further problem.

During the first 1-1/2" of rainfall all the grease, oil, settled soot, animal waste, rubber and metal particles that have settled on to our streets get swept into our storm sewers and into our estuaries.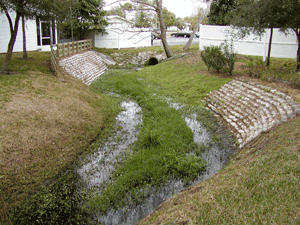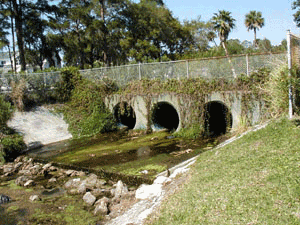 The pictures below show silt deposited in a canal, denying access to docks and interfering with the growth of marine plant life (Example #1). This damage was caused by storm erosion and non point pollution up stream. Further downstream it emptied into the intracoastal waterway (Example #2). Eventually requiring dredging of the navigation channel.