Proper Installation is Key
Pervious Concrete resists degradation from stress during curing. Curing is a chemical process called hydration during which molecular reactions between water and cement create a unique chemical bond which gives the Pervious Concrete unrecognized strength. Since the Pervious mixture dries with much less shrinkage than most other paving concretes, our experience has demonstrated that control joints are needed much less than with conventional concrete. Once cured it does not distort under traffic as does asphalt which often develops ruts and ripples under the hot sun, and the friction from vehicle tires.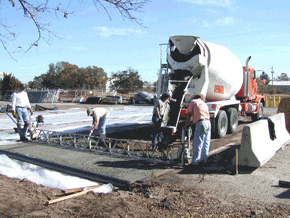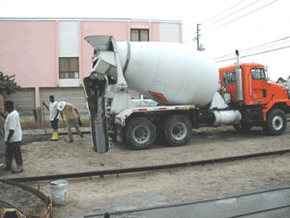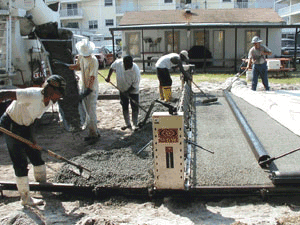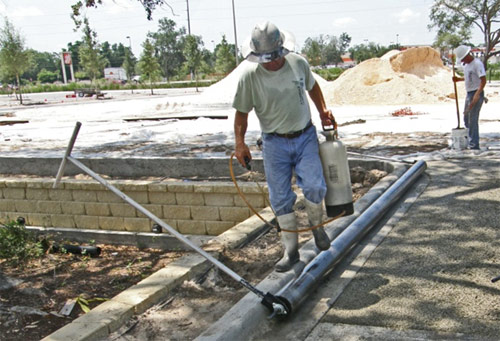 Because of its open cell structure, Pervious Concrete reduces the reflection of heat into the atmosphere. Unlike asphalt it also absorbs much less heat from the sun (50% to 75%). When it rains it does not heat the storm water runoff like asphalt, which eventually heats the bodies of water into which it is discharged. The rain water retained also cools the air above the concrete, because it acts like perspiration evaporating to cool your skin.
When oil or grease drips on to pervious that same open cell structure enables volatiles to evaporate, and remaining solids to pass into the soil below, where microbial activity may consume or convert them. Because of the heavy, strong, Portland cement paste component, it forms strong molecular bonds that grow during hydration. Since most aggregate is porous it forms a mechanical bond as well and creates a pavement with greater strength and durability. If compaction by vibrating screed and rolling is not done quickly this mechanical bond will not be achieved and raveling will occur under traffic.
The appropriate thickness for most pavements is 6″. However thicker pavements may be designed for heavy loads. The skills of concrete engineers should be put to use in designing heavy use pavements.
Examples of Paved Pervious Streets