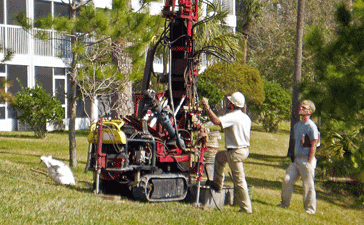 Evaluate the soil. Whether for a Pervious road, driveway or parking lot have the base soild evaluated to establish whether soil will drain enough to support the right sub base and the pervious pavement. This may require test boring. This boring machine will bring to the surface, soils that contain significant levels of silt or clay that are either highly compressible, lack cohesion or will expand or contract with the absorption of moisture. They may not be suitable for pervious concrete pavement unless remediation steps are taken to stabilize that soil. Boring samples are usually taken at 6″ intervals from the surface down to undesturbed soil or bedrock.
Engineering is an important part of successful Pervious Pavement. Percobility calculations will be needed to qualify for LEED points. If roots or other organic debris remain the soil will later settle, and the pavement will crack. Have the sub-soil condition certified before placing sub-base.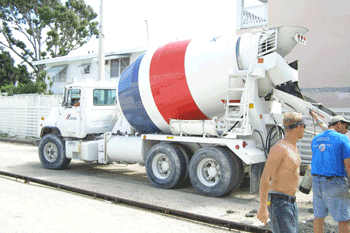 Base Prepeartion. Before concrete is placed the sub-base must be compacted using a vibratory roller or other suitable equipment to a minimum density of 94% to 98%. The compacted base must be moist prior to the placement of paving material, but no puddles of free standing water can be tolerated. A poorly draining base will impede the pervious function. And properly prepared bases will not become rutted by ready mix trucks. Membranes installed between the base and the Pervious Concrete even if porous will eventually clog and prevent proper passage of rainwater.
A properly compacted base supports the weight of a fully loaded, ready-mix truck without creating ruts. Improperly compacted base will not only settle under the weight of the ready mix truck, but will continue to settle every time it rains resulting in cracks and raveling.
In many areas the undisturbed sub-soil is well compacted, but it should be tested to confirm this. If compaction is needed it is usually done with a vibratory roller compactor. If fill is installed under the base it is usually installed in 6″ layers with each layer being compacted.
Compaction is usually tested by a Proctor compression test.
The Proctor compaction test and the related modified Proctor compaction test, named for engineer R. R. Proctor, are tests to determine the maximum practically-achievable density of soils and aggregates, and are frequently used in geotechnical engineering.
The test consists of compacting the soil or aggregate to be tested into a standard mold using a standardized compactive energy at several different levels of moisture content. The maximum dry density and optimum moisture content is determined from the results of the test.
Soil in place is tested for in-place dry bulk density, and the result is divided by the maximum dry density to obtain a relative compaction for the soil in place.