If you enjoy drinking good water, washing your car or watering your lawn, you depend on the land's aquifer. Food plants need irrigation which depends on the aquifer. Year after year its level is dropping, and more and more pollution, especially from parking lots and other paved areas is getting into it. Water use restrictions restrain more legitimate uses year after year. Pervious concrete is part of the solution. It allows the rain to recharge the aquifer, but in the process it filters' out harmful pollutants.
If we don't capture that rainwater it will become polluted storm water which robs our aquifer and damages our environment.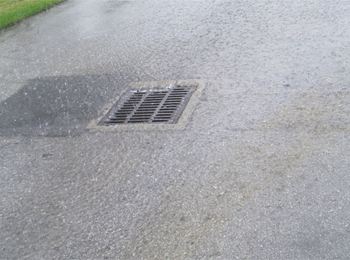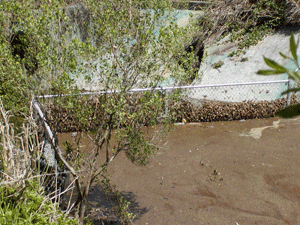 For centuries man has replaced grassland and plants with buildings, driveways, parking lots and highways which channel precious rainwater into storm sewers where it is often prevented from refreshing the aquifer which we need for our very existence.
Once that clean rain water is diverted over roadways covered with engine oil drippings it gets contaminated. Just 5 quarts of oil can contaminate 1,000,000 gallons of rain water! But if that slightly contaminated rain water was diverted over grass or pervious concrete, microbial action would cleanse it. Just think how much rain water gets polluted by streets like this pictured on the right below: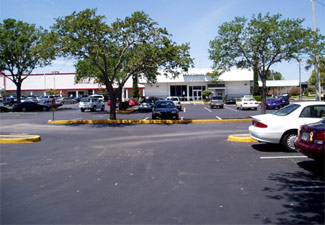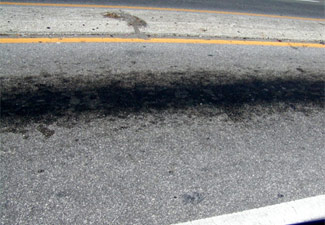 Lost Rain Water = Worse Drought Conditions
Once rain water has turned to storm water it is wasted. Ponds dry the aquifer retreats, trees and plants suffer or die and eventually drinking water becomes scarce. Can we afford this?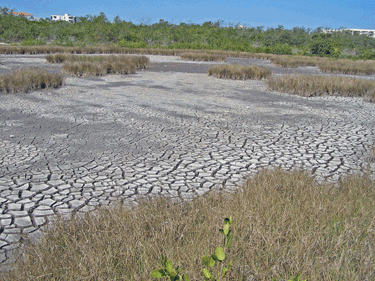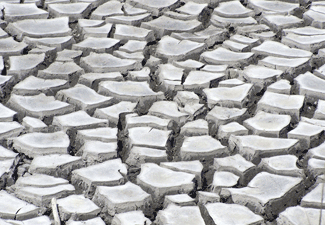 Where has all the water gone? It should have seeped back out of the aquifer to fill this pond. Usually it is full and in spring it becomes a mating haven for ducks, but they are nowhere to be found. The rest of the year it is a favorite gathering place for wading birds. Where has all the water gone? Since rain water became storm water it wound up in the Gulf of Mexico!